Section Policies
Articles
| | | |
| --- | --- | --- |
| Open Submissions | Indexed | Peer Reviewed |
Open Access Policy
This journal provides immediate open access to its content on the principle that making research freely available to the public supports a greater global exchange of knowledge.
Editorial Policies
The journal will not accept manuscript that has been published or is under consideration for publication in any other journal. The author needs to notify the journal if the data presented in the manuscript has been ever presented in conferences.
Conflict of Interest
The author has to provide the authorization of no conflict of interest with any financial body or funding agency that might influence the results or interpretation of their manuscript. All authors, members, reviewers and editors must disclose any association that poses a conflict of interest in connection with the manuscript. The corresponding author must download and complete the ICMJE Conflict of Interest Form on behalf of all the authors regarding to potential conflicts of interest, and submit the form in Step 4 during the article submission process.
Language
All articles should be written in English—either British or American as long as consistency is observed. SI units should be used. If you are not a native speaker of English you may want to utilize the professional language editing service provided by us before submitting the final version.
Withdrawal of Manuscript
If you decide to withdrawal your manuscript after it has been accepted (but not yet published), a processing fee of USD 200 is chargeable upon withdrawal.
Plagiarism Detection
The journal will not accept manuscripts that are plagiarized in any circumstances. The journal will verify the originality of the submitted manuscripts with iThenticate, the plagiarism detection software.
If a manuscript uses a text copied directly from another source, this text must be written in quotation marks and original source must be cited. If any kind of plagiarism is detected during the review process, the manuscript will be rejected.
Authors and researchers can also use iThenticate to screen their work before submission by visiting http://www.ithenticate.com.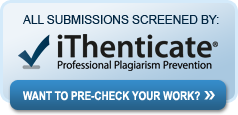 Code of Ethics and Practices
PiscoMed Publishing requests all members involved in the journal publishing process to adhere the "Code of Conduct for Editors" and "Code of Conduct for Publishers" as stipulated by COPE (Committee on Publication Ethics). The guidelines define the best practice in the ethics of scholarly publishing, aiding the journals and publishers to achieve this.
Units of Measurement
Units of measurement should be presented simply and concisely using System International (SI) units.
Article Processing Charges (APC)
PiscoMed publishes all its journals in Gold Open Access format. The scientific community and the general public have free of all restrictions on accessing (e.g., subscription) and free of many restrictions on using its contents as soon as it is published online. PiscoMed does not require readers to purchase any form of subscription to view online versions of the journals. In order to defray our editorial and production costs, authors of the accepted articles are required to pay the article processing charges (APCs). The charges will come from authors' institutes or research funding bodies.
The APC for Information and Computer Security is as follows:
| Journal | APC |
| --- | --- |
| Information and Computer Security | US $800 |
Editorial Board
Click here to see the editorial board.